Engage and Educate Patients
According to the most recent Pew Internet & American Life Project, over 80% of consumers using the web have done so to research health topics. Patients have access to clinical information and resources on the web, and they are actively researching their health conditions both before and after a medical visit.
The images in VisualDx are designed to help aid in the diagnostic process. Images are also an incredibly powerful tool for communicating complex concepts to patients who may be unfamiliar with clinical terms. Read the testimonials.
A Clinician Using VisualDx Can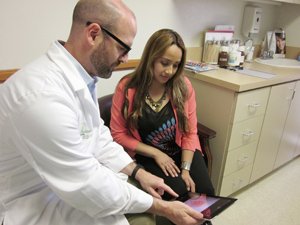 Change the nature of the discussion from proving your diagnosis is correct to planning for treatment and management.

We have heard from many clinicians using VisualDx that once a patient sees an image of their condition in the system, the conversation shifts from confirming a diagnosis to discussing what to do next and how to treat the condition.

Calm a worried patient.

Many times a condition might appear very severe, and a patient might be misinformed based on their own web research. Sharing images in VisualDx that are a near exact match to the patient's presentation can help to calm and reassure patients and family.

Use images to connect with patients.

Images in traditional resources like textbooks and atlases often show the classic case on a "classic" patient. Your patient will almost never match the classic presentation or classic patient. VisualDx shows the variations in disease and covers disease presentation across different skin tones and ages.

Provide patient handouts for common conditions.

As a follow-up to the encounter, print or e-mail patient-friendly handouts with images from VisualDx and text from Skinsight.com, our consumer health sister-site.
More and more clinicians are using tablets, smart phones, and computers during encounters to update and manage a patient's electronic health record. With VisualDx, this technology can do more than just update records; a clinician can improve the overall interaction with patients.