Diagnose Drug-Induced Disease Early and Accurately
A majority of patients are on multiple medications, particularly the elderly. Medications can trigger, predispose to, or directly cause adverse events or disease. In fact, over 770,000 people are injured or die each year from adverse drug events,1 and yet there are few available online or mobile decision support tools to assist the accurate recognition of medication-induced conditions. As more patients are impacted by "polypharmacy," the incidence of serious drug-induced disease has increased hospital risk. Drug-drug interactions are only part of the problem. Diagnosing the complex spectrum of medication-induced disease is an ongoing challenge in the absence of diagnostic and evidence-based resources to guide the visual recognition of medication-induced symptoms and disease.
VisualDx: An essential safety tool for diagnosing drug-induced disease
VisualDx speeds up recognition and diagnosis of medication-induced conditions and provides adverse events decision support for hospitals and medical centers. Our proprietary knowledge database covers over 100 medication reactions, all linked to PubMed (MEDLINE) evidence. Users can search by medication and see images of drug reactions, along with literature evidence documenting each association, and access management and therapy guidelines. See how VisualDx can help diagnose drug hypersensitivity syndrome (case study 1).
Launch VisualDx directly from the EHR using Infobuttons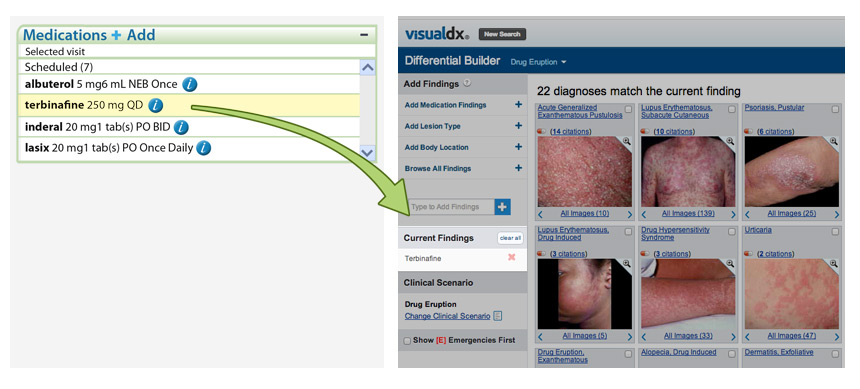 Interoperability with e-record medication list
VisualDx is designed to the HL7 Infobutton standard and utilizes RX-Norm medication terminology, easing interoperability with the electronic health record (EHR). VisualDx medication reactions can be directly integrated into the medication list within the e-record, meaning that end-users can click and see a reaction without re-typing the medication. Learn how VisualDx may be accessed via vendor e-records.
---
Reducing and Preventing Adverse Drug Events To Decrease Hospital Costs. Research in Action, Issue 1. AHRQ Publication Number 01-0020, March 2001. Agency for Healthcare Research and Quality, Rockville, MD. Accessed April 5, 2012.