Image Collection

Acquisition Strategy
Our goal with images is to represent the full spectrum of human disease across skin types, body location, morphologic variation, and other diagnostic features. To adequately capture the immense variation inherent in disease requires access to hundreds of specialized image collections that span dermatology, ophthalmology, oral medicine, infectious disease, emergency medicine, radiology, and pathology. For this reason, we've established partnerships with many exceptional learning institutions and individuals who have contributed their images toward this effort.
---
Standards for Quality
Multi-stage peer review
In addition to a policy of sourcing only from experts, images in VisualDx undergo a rigorous, multi-stage peer-review process to ensure diagnostic accuracy, best image quality, and integrity of image metadata.
Traditional film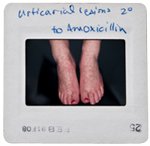 The majority of images in the collection have been professionally scanned from 35mm color transparencies (slides). It is our opinion that the quality of images on traditional film – composition, lighting and exposure – is often higher than the current digital equivalent. Additionally, the standard practice of recording diagnosis and case notes directly on the slide mount was a highly reliable means for keeping image and patient information together. Procedures for handling clinical metadata with digital images are more prone to error and loss – folder/file naming protocols and assigning keywords are not as systematically adopted for maintaining this important information.
---
Worldwide Network for Digital Cases
We've established relationships with an international community of medical experts and developed an efficient means for uploading and centralizing digital cases from around the world. Cases that include tropical and rare diseases, as well as common conditions represented within various ethnic groups and skin types, are continually being added to the collection.
---
Preserving Film-Based Image Collections
Successfully digitizing a photographic collection requires sophisticated scanning equipment, highly skilled operators and an efficient, thoughtful workflow. Our team of medical image specialists carefully evaluates and optimizes each image after scanning to achieve a consistently superior level of quality within the collection. Learn more about our ongoing effort to identify and preserve important film-based medical image collections. If you have a collection on film and are interested in working with us, contact the collection manager.
To be honest with you, I couldn't think of anywhere else that would utilize, cherish, or see the value of such a collection. Who else would be able or interested in storing them or taking care of them? – Nancy Esterly, MD, Pediatric Dermatologist,
Editor emeritus of Pediatric Dermatology
Supporting Departmental Teaching Collections
VisualDx offers collection management support for departmental teaching collections. By uploading and cataloging images in a centralized repository, great cases can be archived and used to educate students and residents.

Using Images from VisualDx
Medical images play an important role in educating students, residents, and even seasoned providers. The VisualDx image library has been developed through partnerships with exceptional learning institutions and providers. These contributors strongly believe in the importance of images to enhance scholarship, teaching, and learning in medicine. VisualDx shares this belief. In support of shared learning, here are guidelines for the use of images and Sympticons™ in educational and non-commercial settings. For questions about our image use policy, please contact our Image Collection Manager.