Downtown Seeing a Quiet Boom in New Business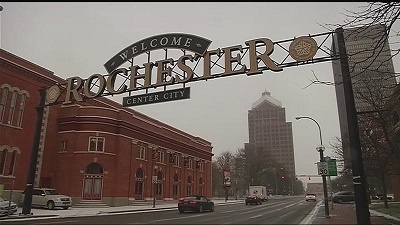 [January 9, 2017 - Lynette Adams, WHEC]
Since the fall of 2014, 35 companies have relocated to Downtown Rochester. Some of them are brand new companies, while others have moved from suburban locations. Together, they are quietly reviving the Flour City.
"I didn't set out when I went to medical school to open a company...Rochester is one of those reasons [I did]".
Dr. Art Papier, for example, is a dermatologist by trade, but this is what excites him. Papier's company, VisualDx, created the first app that helps doctors do one thing: diagnose patients. The company has been going strong for 16 years, but a little more than a year ago, Papier wanted change.
"Our company was located in Henrietta, but it had low ceilings and meandering hallways...and we realized downtown was taking off and we wanted to be a part of it."
Papier wanted to attract millennials with open spaces and good restaurants. Heidi Zimmer-Meyer, CEO of the Rochester Downtown Development Corporation, says VisualDx is a poster child for the kind of companies that have moved there. They are companies looking for a certain energy you can only find downtown.
"What we're seeing is part of a national trend," she says. "Where innovation-type players want to be is downtown; they like that verticality. They like the vibrancy, the dynamic atmosphere, the fact that you've got all these cultures, ages, and incomes kind of crashing together, creating a type of energy."
For Rochester native Victoria Vanvoorhis, moving her Second Avenue learning company downtown made sense. She wanted her employees to be surrounded by innovation.
"There's just a thriving energy that's happening downtown right now, and we really wanted the team to be a part of that, and have their workplace be a destination and not just a place that they go."
Also significant: the number of jobs these companies could bring. Papier says VisualDx is expanding, and within five years, expects to hire possibly hundreds of workers. Meanwhile, Vanvoorhis expects to double her small staff in the coming year.
About VisualDx
VisualDx is an award-winning diagnostic clinical decision support system that has become the standard electronic resource at more than half of U.S. medical schools and more than 1,500 hospitals and institutions nationwide. VisualDx combines clinical search with the world's best medical image library, plus medical knowledge from experts to help with diagnosis, treatment, self-education, and patient communication. Expanding to provide diagnostic decision support across General Medicine, the new VisualDx brings increased speed and accuracy to the art of diagnosis. Learn more at www.visualdx.com.