Visualdx.com no longer supports your web browser (Internet Explorer version 8 or lower). See what browsers we support.
VisualDx Among Top Apps to Facilitate Doctor-Patient Communication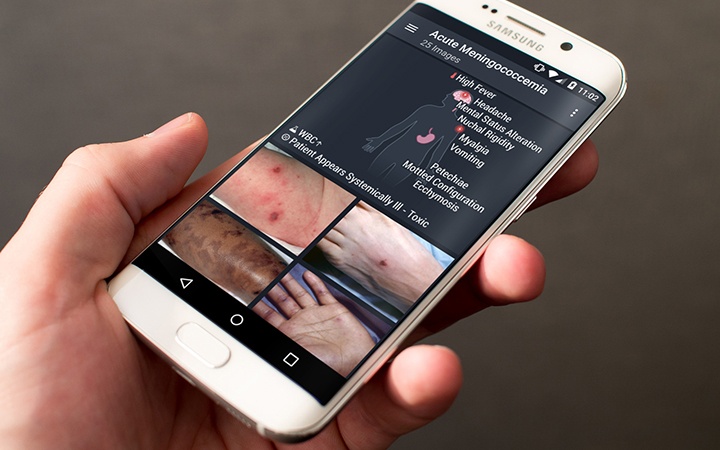 (September 29) - Schumacher Clinical Partners' blog
The importance of effective doctor-patient communication in an emergency or hospital medicine situation cannot be overstated. As SCP Chief Medical Officer Jeffrey A. Schwartz, MD, FACEP, explained, "A lack of clear communication could lead to further clinical consequences." That's where mobile apps can be of immense help. Dr. Schwartz helped us to identify six mobile apps specifically focused on providing clearer physician/patient communication.
Three provide translation capabilities, which is particularly useful when addressing non-English speaking patients. The remaining three, including VisualDx, use images to communicate, enabling the patient to better understand the nature of their condition and its location in the body.
"We have talked about VisualDX in a previous mobile app post, outlining its features and benefits. To recap, the app captures the variation disease presentation by age, skin type, body location, and severity, and combines that with high-resolution images confirmed by leading physician experts. In the context of communication, providers can use the images contained in VisualDX to educate patients on the spot."
The rest of the list can be found here.
About VisualDx
VisualDx is an award-winning diagnostic clinical decision support system that has become the standard electronic resource at more than half of U.S. medical schools and more than 1,500 hospitals and institutions nationwide. VisualDx combines clinical search with the world's best medical image library, plus medical knowledge from experts to help with diagnosis, treatment, self-education, and patient communication. Expanding to provide diagnostic decision support across General Medicine, the new VisualDx brings increased speed and accuracy to the art of diagnosis. Learn more at www.visualdx.com.