Visualdx.com no longer supports your web browser (Internet Explorer version 8 or lower). See what browsers we support.
VisualDx for Cellulitis and Sepsis Safety
One diagnosis costs one billion in wasted healthcare dollars.
Nearly 30% of patients admitted to hospitals for cellulitis do not have cellulitis. Inappropriate admissions utilize beds needed for more important surgical admissions and are a drain on ACO budgets. To improve diagnostic accuracy and appropriate patient management, VisualDx offers an information technology and quality improvement initiative.
The Problem
There is frequent over-diagnosis of patients with presumed cellulitis or soft-tissue infection leading to un-necessary and expensive hospitalizations and IV antibiotic therapy.1,2,3 Cognitive mistakes such as premature closure, lead to the "red leg" being consistently over-diagnosed as cellulitis. Unnecessary admissions put patients at increased risk for hospital acquired infections such as Clostridium difficile, medication reactions and other adverse events. On the other hand, patients presenting with red skin that truly have cellulitis, may be "missed", leading to bacterial sepsis. Driving accuracy in the clinical diagnosis of "true" cellulitis with diseases in the differential diagnosis is the goal of this information technology safety program.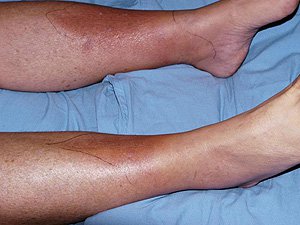 ---
Costs for Cellulitis Diagnostic Error Nationally are Staggering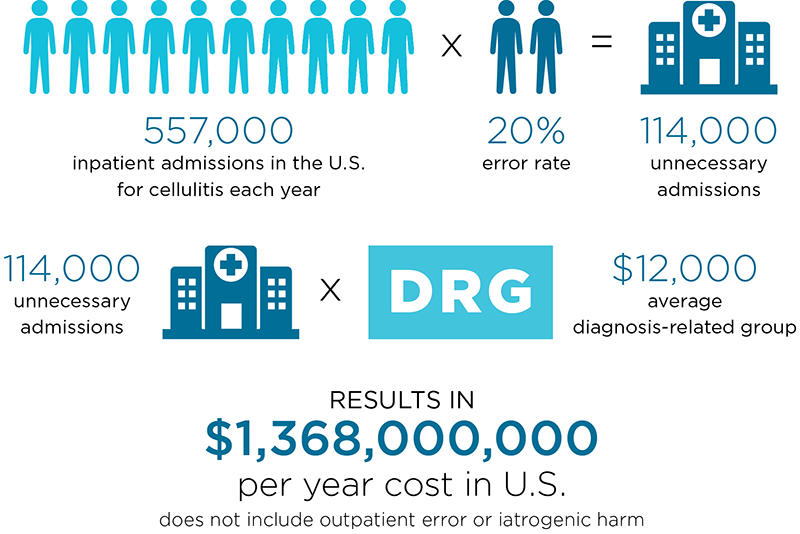 ---
Quality Improvement Method with a Profound ROI
Cellulitis and soft-tissue infection diagnosis in medicine is a clinical diagnosis, meaning that there are no confirmatory tests or studies that specifically rule in or rule out cellulitis. Therefore, augmenting clinicians' knowledge and improving clinical reasoning skills around this diagnostic area are critical.
Improving Diagnostic Accuracy
Diagnostic delay and error can lead to patient harm. In fact, mortality data from autopsies showed that 10% to 15% of deaths were due to missed diagnoses.4 Research has confirmed that cognitive mistakes by physicians are the predominant cause of this error.5 Although most medical cases are ultimately correctly diagnosed and treated, errors leading to delay may result in poor quality of care, patient safety risks, increased costs, and, in some cases, malpractice litigation.6
Summary
Many diagnoses in medicine are clinical diagnoses, made by clinicians without testing. Cellulitis is a clinical diagnosis and one of the most common reasons to be admitted to the hospital, but has a high over-diagnosis rate. Unnecessary admissions result in patient harm and costs. VisualDx is a the most widely used diagnostic clinical decision support system in medicine today. A VisualDx site license will help reduce diagnostic error and have profound cost savings for the ACO.
References