Cutaneous Larva Migrans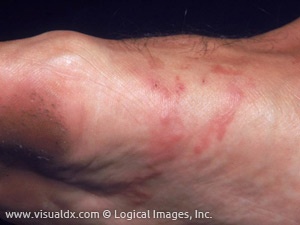 I recently had a case that was solved using Visual Dx. I had a young male patient present with a pruritic rash on the bottom of his foot. It was remarkable in that it was unilateral and had an unusual linear wrapping appearance. I asked him about any recent barefoot walking outside, and he denied anything like this. I thought it might have been a tinea infection and prescribed a topical antifungal. The patient called back 2 days later and told me he had been to Puerto Rico a few weeks prior to our visit, but it had escaped his mind at the time of our visit. This made me think the initial diagnosis was likely incorrect, and the possibility of a parasitic infection entered my mind. I used Visual Dx and input the pertinent information and saw pictures of cutaneous larva migrans on the website that looked exactly like what my patient had – and the diagnosis was made!
– Matt Dowell, DO
---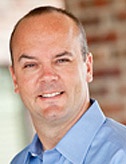 Dr. Matt Dowell is a family physician practicing in Edmond, OK. An Oklahoma native, Dr. Dowell attended Oklahoma Christian University before attending medical school at Oklahoma State University Center for Health Sciences, where he completed his Doctor of Osteopathic Medicine Degree in 1997. After residency training at St. Anthony Family Medicine Residency in Oklahoma City, Dr. Dowell stayed on as faculty, eventually becoming Osteopathic Program Director. From 2007-2009, Dr. Dowell also practiced as a hospitalist at Bone and Joint Hospital in Oklahoma City and served as Medical Director for the SoonerCare Health Management Program for the Oklahoma Health Care Authority. This program sought to reduce health care costs and hospitalizations for the highest-risk Oklahoma SoonerCare patients and to improve clinician practices through practice facilitation.
Since 2010, Dr. Dowell has been in private practice with Mercy Clinic in Edmond. Dr. Dowell's professional passions include evidence-based medicine, providing comprehensive lifetime care, "from cradle to grave," and providing care to patients with diabetes. In addition to his clinical practice, he serves as Chairman for the Quality and Safety Committee for Mercy Clinic in Oklahoma City.