Disseminated Gonorrhea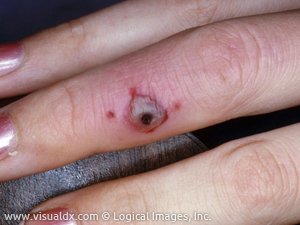 I am an emergency physician working in a major metropolitan city in Southwest Texas. Working a busy regional referral hospital, many Texans from surrounding counties come to us as a last-ditch effort for their ailments. Such was the case when an otherwise healthy 26-year-old female came to me with a chief complaint of a chronic rash. The young woman had been seen by other healthcare providers at least 3 times prior to arriving to our ED for care. Her complaints each time were a painful disseminated rash that had been present for over 3 weeks. She had previously been diagnosed with an allergic reaction, dermatitis and herpes zoster, with failure to the prescribed treatment to those respective treatments. With increasing pain and a worsening rash, her frustration was growing.
She presented to us tearful, anxious, and with a fever (100.6°F [38.1°C]) and a rash that was papular and hemorrhagic as well as necrotic, primarily on her extremities. The lesions were painful and appeared to be in different stages of development. The remainder of her exam was benign except for a mild tachycardia of 105. As I do on most rashes that are not clearly urticarial or allergic in nature, I turned to visual diagnosis to help me develop a differential. Using the VisualDx Differential Builder, I was able to develop an appropriate differential which included the rare diagnosis of disseminated gonococcemia.
After multiple hospital visits and misdiagnosis during those visits, the patient finally received a definitive diagnosis and admission for the treatment and management of a life-threatening disease. I am not sure I would have had the rare diagnosis of disseminated gonococcemia on my initial differential diagnosis if it were not for the VisualDx Differential Builder. The ability to develop a broad, symptom-based differential using VisualDx is a prominent tool in my arsenal to take care of patients with a nonspecific rash. Besides the online version, I have VisualDx on my iPad and iPhone to share images with patients at the bedside in real time. I use VisualDx on almost every shift, and it remains a powerful tool for my colleagues and me.
– Dr. Sumeru Mehta, Emergency Medicine Physician, San Antonio, Texas
---
Dr. Sumeru Mehta is an emergency physician practicing in San Antonio, Texas. A Texas native, Dr. Mehta attended Baylor University and then completed a Masters in Public Health and Doctor of Medicine degree at The George Washington University School of Medicine in 2000. He then trained in emergency medicine at the University of Pennsylvania. After completing his emergency medicine residency in 2004, Dr. Mehta became active duty in the US Army at Brooke Army Medical Center in San Antonio, TX. He was selected to be core faculty for the military's largest emergency medicine training program at the San Antonio Uniformed Services Health Education Consortium (SAUSHEC) Emergency Medicine Training program. Dr. Mehta developed the emergency bedside ultrasound program and was the Director of the Performance Improvement / Quality Improvement program for the Department of Emergency Medicine at Brooke Army Medical Center. In 2006, Dr. Mehta writes, "I spent 10 months deployed in Baghdad, Iraq, where I worked as emergency medicine staff in the 10th Combat Support Hospital, caring for our brave soldiers who were injured in the line of duty. My time deployed caring for our soldiers was the most rewarding clinical medicine I have ever practiced. In addition to caring for our soldiers, I also participated in research looking at improving hemorrhage control in trauma as well as the role of bedside ultrasound in the combat environment."
In 2008, Dr. Mehta began practice as a civilian emergency medicine physician. He is a partner and on the Board of Directors of Greater San Antonio Emergency Medicine, an emergency medicine group covering 4 emergency departments in San Antonio, with a total emergency department volume of over 170,000 patients per year. Dr. Mehta is also Clinical Assistant Professor at the University of Texas Health Science Center at San Antonio in the Center of Emergency Medicine, which will have their first emergency medicine residency training class in the summer of 2013. Dr. Mehta writes that he "is passionate about emergency medicine patient care, resident/medical student teaching, and research in academic and community emergency medicine. And finally my first and foremost love is my family, which includes my wife Tania and our 34-month-old son, Loghan."