VisualDx in Pakistan
– Dr. Mirza Rizwan Ul Hassan, Pediatric Physician, Murree, Pakistan
Kerion
My patient was an 8-year-old boy who presented with a scalp rash that had persisted for many months. I examined his scalp and noted alopecia, scale, and pus. I had never seen such a case before. The boy had been to many physicians, including a dermatologist, but had experienced no improvement. I took photographs of his scalp for comparison with images in VisualDx. In the meantime, I prescribed an oral antibiotic and a combination anti-fungal and antibiotic cream and asked him to come back after 7 days. Later that night, I studied the photographs I took and then opened the VisualDx differential building tool for child rash. I entered alopecia and pustule and identified similar-appearing lesions among the images in the differential results. I diagnosed kerion, an acute inflammatory reaction of severe tinea capitis ("ringworm of the scalp"). The boy came back after 15 days, and I was eagerly awaiting him. I adjusted my treatment plan based on the information in VisualDx, which advised that oral antifungals were necessary. When the patient last visited me, he had been on treatment for 4 weeks, and his condition had improved across nearly 70% of his scalp. There was persistent loss of hair at multiple sites with prominent scarring, which I learned from VisualDx is consistent with the diagnosis of kerion. I came across another similar case later that year. This time I knew the diagnosis and management of this difficult medical condition.
---
Acne Keloidalis Nuchae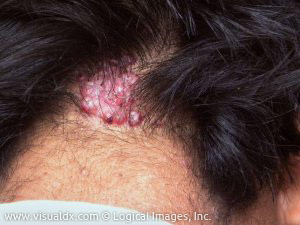 A man came to me with a bumpy rash on the nape of his neck. It had first appeared 6 months earlier on one side of his neck and then resolved on its own after a few weeks. When the patient came to see me, he had developed the bumpy rash again, this time on the skin and hair line area of the nape. There was also loss of hair in the area of the lesions. I took a picture for comparison with VisualDx, tentatively labeling it as nodular sclerosis. However, when I accessed VisualDx and entered body location, lesion type, and alopecia in the hair and scalp differential builder, the diagnosis acne keloidalis nuchae appeared at the top of the results, and the images matched my patient. I had never heard of this condition and again studied the case using VisualDx. Recently I saw another case of acne keloidalis nuchae.