Visualdx.com no longer supports your web browser (Internet Explorer version 8 or lower). See what browsers we support.
CASE STUDY: Mystery Skin Lesions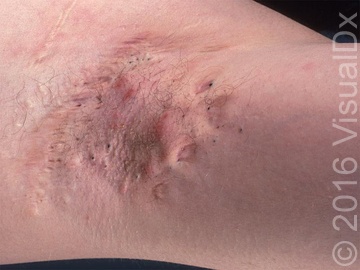 A middle-aged woman in Canada showed up at the doctor's office complaining of a vaginal rash that just wouldn't go away. She had seen many physicians to clear up the lesions but numerous antibiotics and creams weren't working.
A family medicine resident at Alberta Health Services took a closer look and found similar lesions in her armpits and under her breasts. Using the VisualDx app, the doctor built a differential and diagnosed the patient with hidradenitis suppurativa (acne inversa).
Thanks to the management pearls in VisualDx, the patient made a full recovery.
About VisualDx
VisualDx is an award-winning diagnostic clinical decision support system that has become the standard electronic resource at more than half of U.S. medical schools and more than 1,500 hospitals and institutions nationwide. VisualDx combines clinical search with the world's best medical image library, plus medical knowledge from experts to help with diagnosis, treatment, self-education, and patient communication. Expanding to provide diagnostic decision support across General Medicine, the new VisualDx brings increased speed and accuracy to the art of diagnosis. Learn more at www.visualdx.com.