Visualdx.com no longer supports your web browser (Internet Explorer version 8 or lower). See what browsers we support.
Introducing the Sympticon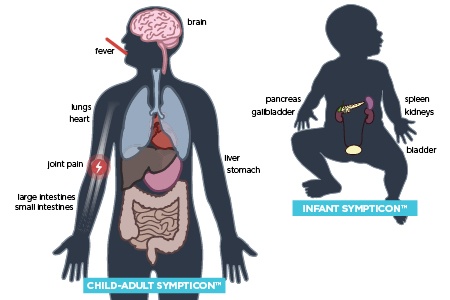 The new VisualDx features the Sympticon, a way to visualize the symptoms of a disease. Our developers, medical editors and librarians have been working hard to enhance your VisualDx experience as you compare diagnoses and build a patient-specific differential.
There is a Child-Adult sympticon and an Infant Sympticon which will automatically show if you create a differential diagnosis for specific ages. The Sympticon highlights which organs are affected by the specific disease or diagnosis.
The Sympticons also change color according to the diagnosis. If you add that the patient is flushed the Sympticon will show as red instead of dark blue. Jaundice shows the Sympticon as yellow.
Special symbols appear on the Sympticon to indicate important chief complaints including a white lightning bolt in a red circle to indicate pain (as seen in the Child-Adult Sympticon to symbolize elbow joint pain), and an oral thermometer (also in the Child-Adult Sympticon) to indicate fever.
About VisualDx
VisualDx is an award-winning diagnostic clinical decision support system that has become the standard electronic resource at more than half of U.S. medical schools and more than 1,500 hospitals and institutions nationwide. VisualDx combines clinical search with the world's best medical image library, plus medical knowledge from experts to help with diagnosis, treatment, self-education, and patient communication. Expanding to provide diagnostic decision support across General Medicine, the new VisualDx brings increased speed and accuracy to the art of diagnosis. Learn more at www.visualdx.com.