Visualdx.com no longer supports your web browser (Internet Explorer version 8 or lower). See what browsers we support.
Researchers Focus on Heartland Virus Immunity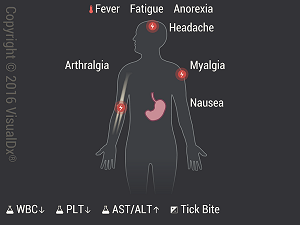 New research out of Colorado is focusing on a newly described disease affecting the Midwest and its effect on animal immunity.
Heartland virus disease is caused by a newly described Phlebovirus with human infections reported in Missouri, Oklahoma, and Tennessee. Infection is believed to be transmitted by a tick bite. The most common symptoms include fever, fatigue, anorexia, headache, nausea, arthralgia and diarrhea.
As of 2016, 9 cases of infection have been described - all men older than 50. Two patients have died.
Research to be published in the Centers for Disease Control and Prevention's Emerging Infectious Diseases December issue looks at the immune response to Heartland virus in raccoons, goats, chickens, rabbits, hamsters and mice. Their finding that the only animal affected (mice without the receptor for interferon) suggests a path to research on helping humans fight the disease.
Read more of VisualDx's content about Heartland virus disease including diagnostic pitfalls.
About VisualDx
VisualDx is an award-winning diagnostic clinical decision support system that has become the standard electronic resource at more than half of U.S. medical schools and more than 1,500 hospitals and institutions nationwide. VisualDx combines clinical search with the world's best medical image library, plus medical knowledge from experts to help with diagnosis, treatment, self-education, and patient communication. Expanding to provide diagnostic decision support across General Medicine, the new VisualDx brings increased speed and accuracy to the art of diagnosis. Learn more at www.visualdx.com.