The Variables of Medical Education - A Guest Blog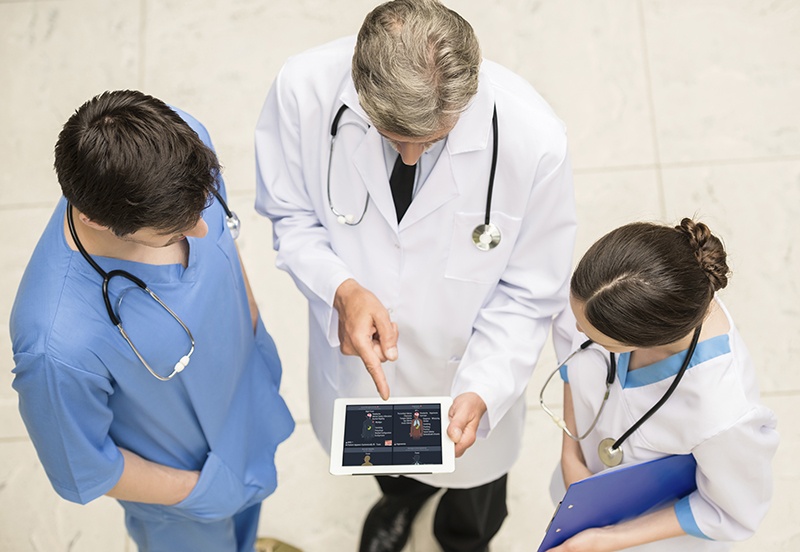 A 40-year-old male with a history of alcoholism presents with abdominal distention and hematemesis. A 25-year-old African American female presents with a chronic cough with bilateral hilar lymphadenopathy seen on chest imaging. A 35-year-old intravenous drug user presents with fever, heart murmur, and splinter hemorrhages seen on extremity examination.
Those who have gone through medical training likely can quickly identify the above disease scripts as a bleeding esophageal varix, sarcoidosis, and endocarditis. This is the beauty of formal medical education; it ingrains in trainees a kneejerk ability to identify and diagnose textbook presentations of the diseases that present to clinics and hospitals everyday. However, while this system allows clinicians to readily identify common presentations of common problems, if one changes just a few clinical variables, this ability to quickly and decisively identify a root cause of the patient's symptoms breaks down. For example, if we consider instead a 60-year-old female with no past alcohol abuse who presents with hematemesis, the diagnosis of bleeding varix may not come as quickly to mind. This is just one example of the issue clinicians face when encountering uncommon presentations of common problems.
While seasoned medical providers have the benefit of years of experience to help identify and diagnose these atypical presentations, for those of us just entering the field these cases pose increasing diagnostic challenges. With such an apparent and pervasive issue of medical and diagnostic errors1,2 at hand with the potential to negatively impact patients, what safeguards can physicians and trainees employ to reduce the prevalence of diagnostic and treatment error in their practices?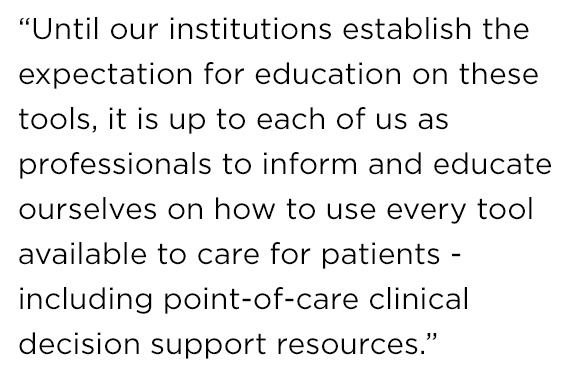 Before the advent of the internet and the rapid expansion and integration of technology in patient care, if a clinician had a clinical question they would have to hold onto the question until they had access to a library or other sources of text. Now in the 21st century, with the ongoing expansion of digital integration into our daily routines, the entire body of medical knowledge is just a click of a mouse or the tap of the screen away. Although this sounds good in principle, studies have shown that medical providers struggle to properly wield non-medically oriented resources like Google or even PubMed to answer patient care questions3-5. In response, numerous point-of-care medical decision support programs have emerged that can provide quick and concise answers that utilize peer-reviewed literature to help clinicians practice evidence-based medicine. These resources stand to help expedite the process of finding answers to questions that arise in patient care. Early evidence would even suggest that their broader implementation has observable improvements on patient outcomes6.
Despite slowly growing evidence that the utilization of electronic point-of-care decision support resources can help inform clinicians to improve their practices and in turn patient outcomes9-10, our institutions of medical education have been slow to formalize education surrounding the use of these tools. The physician of tomorrow will likely be expected to be masters of integrating the ever-expanding medical knowledge maintained by these resources with the clinical skills and professional abilities to care for our patient populations. So, until our institutions establish the expectation for education on these tools, it is up to each of us as professionals to inform and educate ourselves on how to use every tool available to care for patients - including point-of-care clinical decision support resources.
Throughout my own educational experiences, I have used many different programs and find that while none of them offers a "one size fits all" ability to help with all questions, several have made it to my top-pick category. Below are some of my top choices and how I find them useful. Ultimately, it is impossible, and frankly unsafe, to expect clinicians to learn and memorize the exponentially growing body of medical knowledge. Hence, as with basic procedural skills such as starting an IV and suturing a simple wound, all clinicians should be expected to be competent in the cognitive skill of augmenting their practices by accessing appropriate resources in a point-of-care fashion in the care of their patients.
VisualDx:

"Differential expander" - Born with the intention of assisting in the diagnosis of dermatologic conditions and visible lesions. A must have for any clinician because weird rashes are always difficult to diagnose. Also, recently updated to include broader differentials for an even more robust, general medicine differential diagnostic engine. Great for visual learners – expanding to include pathology and microbiology images and radiography to support diagnostics and education.

Epocrates:

"How do I treat this?" - The basic service offers drug interactions, pill identification, clinical practice guidelines, and other helpful resources. The full version offers user expanded access to disease monographs, lab interpretations, and evidence-supported treatment protocols.

UpToDate:

"I have 10 minutes to learn about X before rounds" - An evidence-based clinical decision support system authored by physicians to help clinicians make the right decisions at the point of care. Provides a "medium" depth dive into pathophysiology, pharmacology, diagnostics, and treatment of thousands of diseases. Tables and charts are often concise and provide great direction on how to workup and manage medical/surgical problems.

Figure 1:

"General knowledge expansion" - This community medical-image sharing application allows healthcare workers to share photos and discuss cases on a HIPAA compliant platform. You get to see a "once in a career" disease presentation every day.

Assorted Screening and Guideline Applications:

"Healthcare maintenance / chronic disease management" - The screening and interventions found in these applications don't take up space in my brain, but they do on my iPhone. They have many detailed components and are easy to use at bedside – just don't forget to tell your patient you're looking up their CVD risk and not texting about dinner plans. My short list: AHRQ ePSS (USPSTF recommendations), CDC Vaccine Schedules, ADA SoC (Standards of Care), ASCVD Risk Estimator, and a link to the FRAX calculator.
About the Author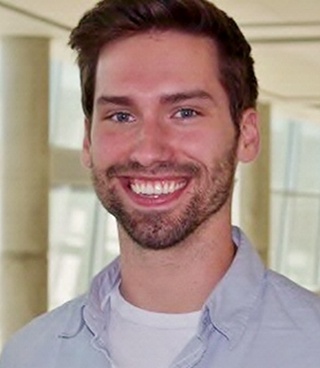 R. Logan Jones is a fourth year medical student at the University of Nebraska Medical Center (UNMC) and has a strong interest in medical education and healthcare policy. Logan has served in numerous leadership roles at UNMC, the Nebraska Medical Association, and The American Medical Association. His main areas of focus are Competency-Based Medical Education, Graduate Medical Education finance reform, and Healthcare Technology Innovation. Logan also has a strong interest in Antimicrobial Stewardship and plans on pursuing a career in Infectious Diseases. He enjoys spending his free time cooking, maintaining his wellness through exercise and yoga, and listening to NPR and his favorite podcasts.
References
Makary MDaniel M. Medical error—the third leading cause of death in the US. BMJ. 2016:i2139. doi:10.1136/bmj.i2139.
Harvard School of Public Health. THE PUBLIC'S VIEWS ON MEDICAL ERROR IN MASSACHUSETTS.; 2014. Available at: https://cdn1.sph.harvard.edu/wp-content/uploads/sites/94/2014/12/MA-Patient-Safety-Report-HORP.pdf. Accessed June 21, 2016.
Hoogendam A, Stalenhoef A, de Vries Robbé P, Overbeke A. Answers to Questions Posed During Daily Patient Care Are More Likely to Be Answered by UpToDate Than PubMed. J Med Internet Res. 2008;10(4):e29. doi:10.2196/jmir.1012.
Sayyah Ensan L, Faghankhani M, Javanbakht A, Ahmadi S, Baradaran H. To Compare PubMed Clinical Queries and UpToDate in Teaching Information Mastery to Clinical Residents: A Crossover Randomized Controlled Trial. PLoS ONE. 2011;6(8):e23487. doi:10.1371/journal.pone.0023487.
Krause R, Moscati R, Halpern S, Schwartz D, Abbas J. Can Emergency Medicine Residents Reliably Use the Internet to Answer Clinical Questions?. Western Journal of Emergency Medicine. 2011;12(4):442-447. doi:10.5811/westjem.2010.9.1895.
BONIS P, PICKENS G, RIND D, FOSTER D. Association of a clinical knowledge support system with improved patient safety, reduced complications and shorter length of stay among Medicare beneficiaries in acute care hospitals in the United States. International Journal of Medical Informatics. 2008;77(11):745-753. doi:10.1016/j.ijmedinf.2008.04.002.
Ellsworth M, Homan J, Cimino J, Peters S, Pickering B, Herasevich V. Point-of-Care Knowledge-Based Resource Needs of Clinicians. Appl Clin Inform. 2015;6(2):305-317. doi:10.4338/aci-2014-11-ra-0104.
Duran-Nelson A, Gladding S, Beattie J, Nixon L. Should We Google It? Resource Use by Internal Medicine Residents for Point-of-Care Clinical Decision Making. Academic Medicine. 2013;88(6):788-794. doi:10.1097/acm.0b013e31828ffdb7.
Fiander M, McGowan J, Grad R, Pluye P, Hannes K, Labrecque M, Roberts NW, Salzwedel DM, Welch V, Tugwell P. Interventions to increase the use of electronic health information by healthcare practitioners to improve clinical practice and patient outcomes. Cochrane Database of Systematic Reviews 2015, Issue 3. Art. No.: CD004749. DOI: 10.1002/14651858.CD004749.pub3.
Cook D, Enders F, Linderbaum J, Zwart D, Lloyd F. Speed and Accuracy of a Point of Care Web-Based Knowledge Resource for Clinicians: A Controlled Crossover Trial. Interact J Med Res. 2014;3(1):e7. doi:10.2196/ijmr.2811.
About VisualDx
VisualDx is an award-winning diagnostic clinical decision support system that has become the standard electronic resource at more than half of U.S. medical schools and more than 1,500 hospitals and institutions nationwide. VisualDx combines clinical search with the world's best medical image library, plus medical knowledge from experts to help with diagnosis, treatment, self-education, and patient communication. Expanding to provide diagnostic decision support across General Medicine, the new VisualDx brings increased speed and accuracy to the art of diagnosis. Learn more at www.visualdx.com.