Visualdx.com no longer supports your web browser (Internet Explorer version 8 or lower). See what browsers we support.
VisualDx Diagnosis Challenge - 12/5/2016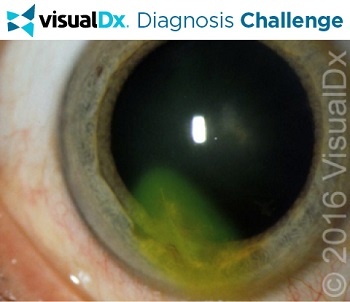 A 16-year-old boy came to the ED by ambulance accompanied by his shop teacher after an accident during class. The young man said his friend had been fooling around with some of the tools and suddenly he felt a sharp pain in his eye. The teacher had been working with another group of students and hadn't seen what happened either.
Now the student was complaining of ocular pain, excessive tearing, and blurred vision. Upon exam, the physician noted that his pupil was abnormally shaped and decided to consult an ophthalmologist to confirm a diagnosis.
About VisualDx
VisualDx is an award-winning diagnostic clinical decision support system that has become the standard electronic resource at more than half of U.S. medical schools and more than 1,500 hospitals and institutions nationwide. VisualDx combines clinical search with the world's best medical image library, plus medical knowledge from experts to help with diagnosis, treatment, self-education, and patient communication. Expanding to provide diagnostic decision support across General Medicine, the new VisualDx brings increased speed and accuracy to the art of diagnosis. Learn more at www.visualdx.com.