Visualdx.com no longer supports your web browser (Internet Explorer version 8 or lower). See what browsers we support.
What is Pityriasis Rosea?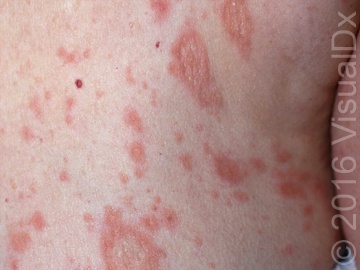 Pityriasis rosea is a common cutaneous eruption that arises spontaneously, is asymptomatic or pruritic, and is self-limited in nature. Classically, a lone pink or flesh-colored patch or scaly plaque appears first in an otherwise healthy adolescent or young adult. Several days later, the ensuing eruption appears.
Get a more thorough look at pityriasis rosea and how it presents.
About VisualDx
VisualDx is an award-winning diagnostic clinical decision support system that has become the standard electronic resource at more than half of U.S. medical schools and more than 1,500 hospitals and institutions nationwide. VisualDx combines clinical search with the world's best medical image library, plus medical knowledge from experts to help with diagnosis, treatment, self-education, and patient communication. Expanding to provide diagnostic decision support across General Medicine, the new VisualDx brings increased speed and accuracy to the art of diagnosis. Learn more at www.visualdx.com.