Visualdx.com no longer supports your web browser (Internet Explorer version 8 or lower). See what browsers we support.
What's the Diagnosis? - Pediatric Papules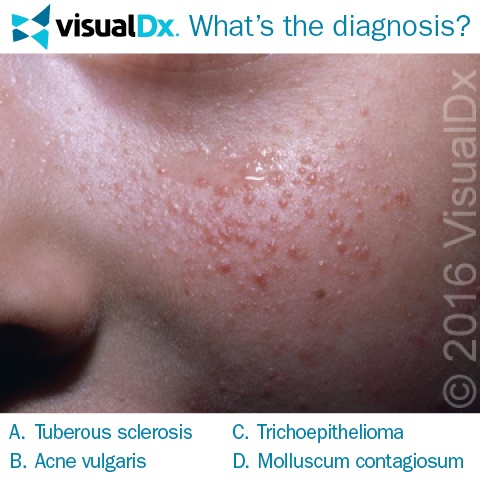 A concerned mother brought her 5-year-old daughter, who had been diagnosed with epilepsy as a toddler, to the pediatrician to ask about red papules that had developed on her face. They were spread across her nose and cheeks. Her mother worried they might develop into something like the shagreen patches that she had on her back.
Is it tuberous sclerosis, acne vulgaris, trichoepithelioma, or molluscum contagiosum?
About VisualDx
VisualDx is an award-winning diagnostic clinical decision support system that has become the standard electronic resource at more than half of U.S. medical schools and more than 1,500 hospitals and institutions nationwide. VisualDx combines clinical search with the world's best medical image library, plus medical knowledge from experts to help with diagnosis, treatment, self-education, and patient communication. Expanding to provide diagnostic decision support across General Medicine, the new VisualDx brings increased speed and accuracy to the art of diagnosis. Learn more at www.visualdx.com.