Visualdx.com no longer supports your web browser (Internet Explorer version 8 or lower). See what browsers we support.
What's the Diagnosis? - November 7, 2016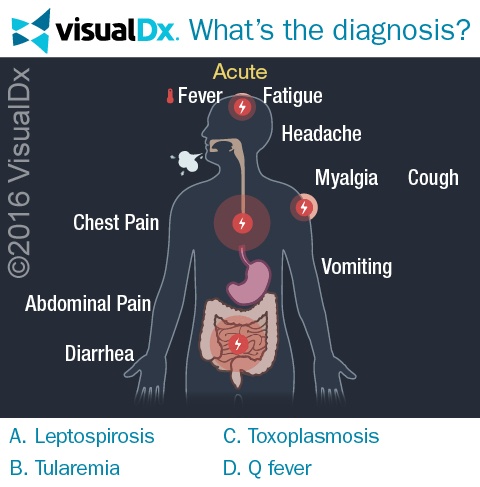 A 50-year-old cattle farmer went to his doctor after returning from a 10-day tour of Australian ranches.
He complained of a high fever of 103˚F (39.4˚C), headache, myalgia, nausea, sore throat, sweating, and abdominal pain.
His wife, who accompanied him to the doctor, reported that he had also seemed confused or delirious a few times, which she had attributed to the high fever.
Is it Leptospirosis, Tularemia, Toxoplasmosis, or Q fever?
About VisualDx
VisualDx is an award-winning diagnostic clinical decision support system that has become the standard electronic resource at more than half of U.S. medical schools and more than 1,500 hospitals and institutions nationwide. VisualDx combines clinical search with the world's best medical image library, plus medical knowledge from experts to help with diagnosis, treatment, self-education, and patient communication. Expanding to provide diagnostic decision support across General Medicine, the new VisualDx brings increased speed and accuracy to the art of diagnosis. Learn more at www.visualdx.com.