INFORMED Skin Cancer Education Series
INFORMED (INternet curriculum FOR Melanoma Early Detection) is transforming melanoma education by engaging the learner. In addition, the INFORMED program provides training in dermoscopy (epiluminescence microscopy), which has been proven to increase diagnostic accuracy during the skin examination.
"An increasing body of evidence indicates that effective early detection is our best hope for cutting melanoma deaths by at least half in the near future.
Conventional education programs have had the effect of stabilizing mortality rates despite steadily increasing incidence trends, but we need to change our methods to get a substantial reduction in deaths. Today, knowledge and skills for melanoma screening remains low in primary care, performance of thorough skin self-examination remains low, and education of clinicians remains focused on teaching variations of the ABCDs of melanoma in conventional formats."
Dr. Martin Weinstock
---
---
Case 1: ABCDEs of Melanoma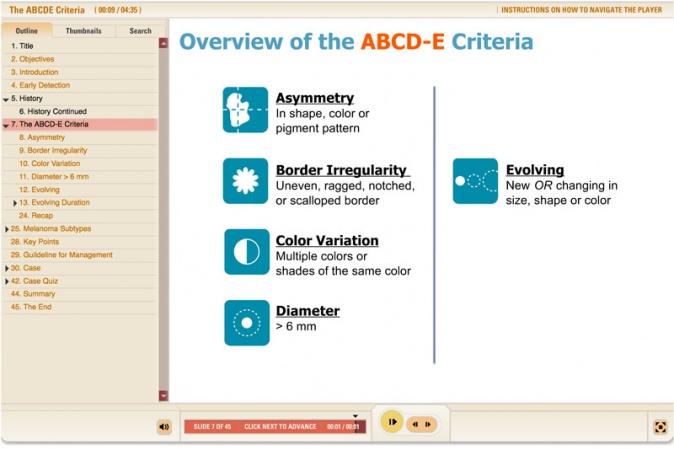 Objectives:
Learn and apply the ABCD-E criteria for melanoma detectionLearn about superficial spreading melanoma (SSM)

---
Case 2: The "Ugly Duckling Sign"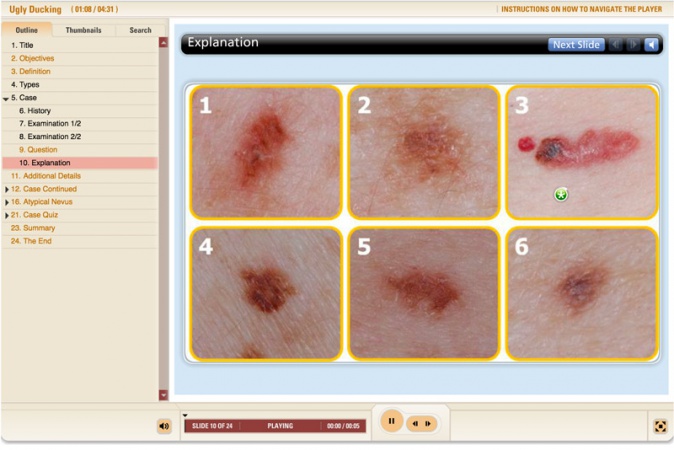 Objectives:
Learn and apply the "Ugly Duckling" sign for melanoma detectionLearn about atypical (dysplastic) nevus

---
Case 3: Seborrheic Keratosis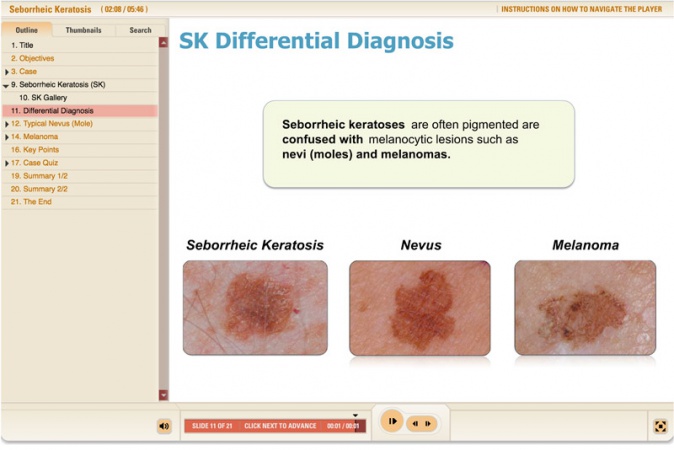 Objectives:
Learn about seborrheic keratosis (SK)Learn how to differentiate seborrheic keratoses from nevi and melanomas

---
Case 4: Nodular Melanoma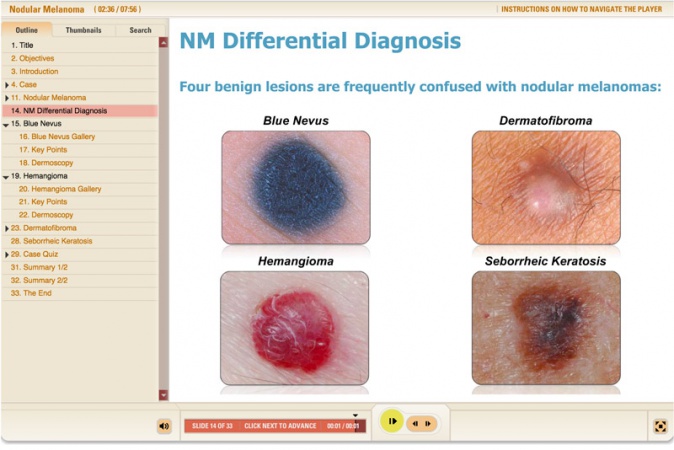 Objectives:
Learn about nodular melanoma (NM)Learn about blue nevus
Learn about hemangioma
Learn about dermatofibroma

---
Case 5: Melanoma Subtypes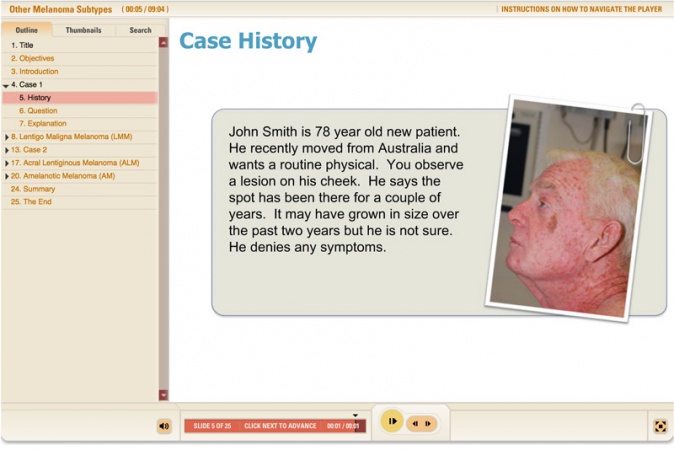 Objectives:
Learn about lentigo maligna melanoma (LMM)
Learn about acral lentiginous melanoma (ALM)
Learn about amelanotic melanoma (AM)

---
Case 6: Melanoma Risk Factors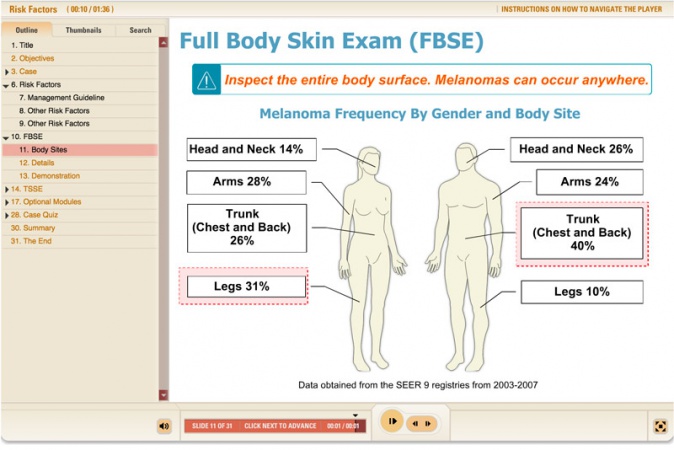 Objectives:
Learn about the risk factors of melanoma
Learn the components of a full body skin exam and skin self exam
Learn the principles of effective skin cancer primary prevention and counseling

---
Case 7: Basal Cell Carcinoma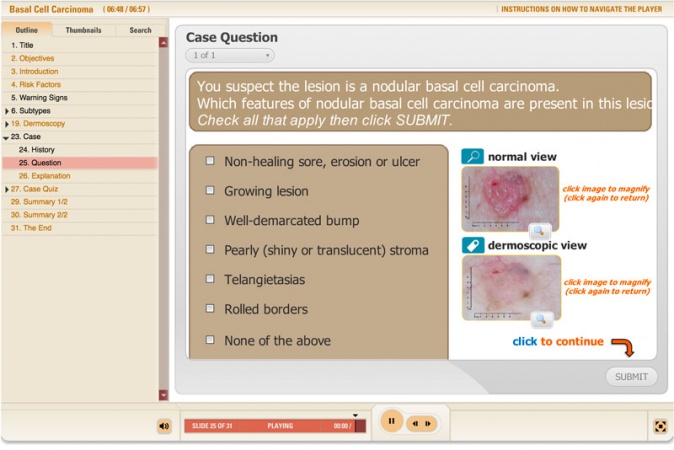 Objectives:
Learn about basal cell carcinoma (BCC)
Learn about sebaceous hyperplasia
Learn about angiofibroma (fibrous papules)

---
Case 8: Squamous Cell Carcinoma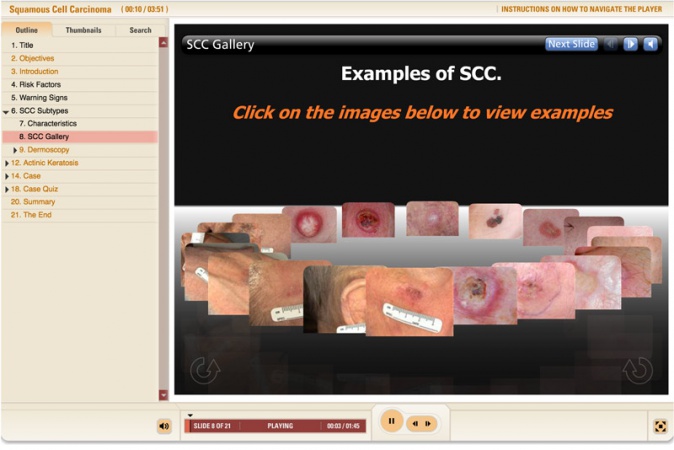 Objectives:
Learn about squamous cell carcinoma (SCC)
Learn about actinic keratosis (AK)

---
Case 9: Getting It Done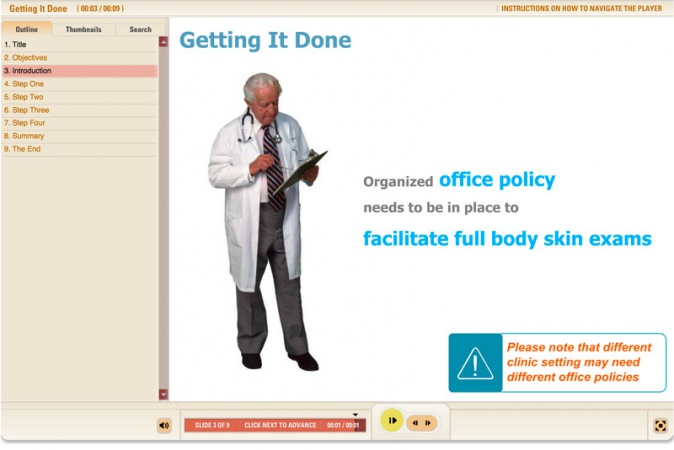 Objectives:
Learn about and understand key features of an effective office that facilitates skin cancer detection

---
Dermoscopy
Objectives:
Learn about dermoscopy
Learn and apply the 3-point checklist for detection of pigmented skin cancers

---
Post-test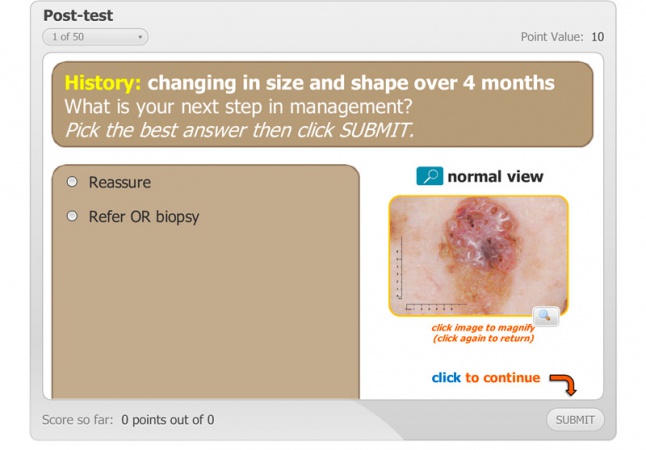 Objectives:
Review and test your understanding of the topics surrounding melanoma and skin cancer detection

---
About INFORMED
INFORMED was created by a diverse team, from multiple institutions, with expertise in melanoma early detection, medical education for cancer prevention, clinician interventions including large health systems, screening, and Web-based instruction.
With a grant from the Melanoma Research Alliance (MRA) the INFORMED (INternet Curriculum FOR Melanoma Early Detection) group set to create an educational course targeted toward primary care physicians.
The immediate goal of the curriculum is to improve the detection of skin cancers by increasing physician clinical knowledge and diagnostic skills. Through this curriculum the ultimate goal is to reduce the skin cancer mortality rate.
The INFORMED Team
Martin A. Weinstock, MD, PhD, Team Leader, Providence VAMC, Brown University
Maryam M. Asgari, MD, MPH, Principal Investigator, Kaiser Permanente Northern California
Melody J. Eide, MD, MPH, Principal Investigator, Henry Ford Health System
Suzanne W. Fletcher, MD, MSc, Principal Investigator, Harvard Pilgrim Health Care Institute, Harvard Medical School
Alan Geller, RN, MPH Principal Investigator, Harvard School of Public Health
Allan Halpern, MD, MSc, Principal Investigator, Memorial Sloan Kettering Cancer Center
Waqas R. Shaikh, BS, Dermatoepidemiology Fellow, Providence VAMC, Brown University
Kimberly Marcolivio, M.Ed, National Coordinator, Providence VAMC
Lingling Li, PhD, Statistician, Harvard Pilgrim Health Care Institute, Harvard Medical School
Gwen L. Alexander, PhD, MPH, Henry Ford Health System
Andrea Altschuler, PhD, Kaiser Permanente Northern California
Stephen Dusza, DrPH, Memorial Sloan Kettering Cancer Center
Jacqueline Goulart, MD, Memorial Sloan Kettering Cancer Center
Michelle Groesbeck, Henry Ford Health System
Shoshana Landow, MD, Providence VAMC, Brown University
Ashfaq A. Marghoob, MD, Memorial Sloan Kettering Cancer Center
Elizabeth A. Quigley, MD, Memorial Sloan Kettering Cancer Center
Monica Sokil, RD, Kaiser Permanente Northern California
E. Margaret Warton, MPH, Kaiser Permanente Northern California