Visualdx.com no longer supports your web browser (Internet Explorer version 8 or lower). See what browsers we support.
VisualDx on iPad, iPhone, and Android Devices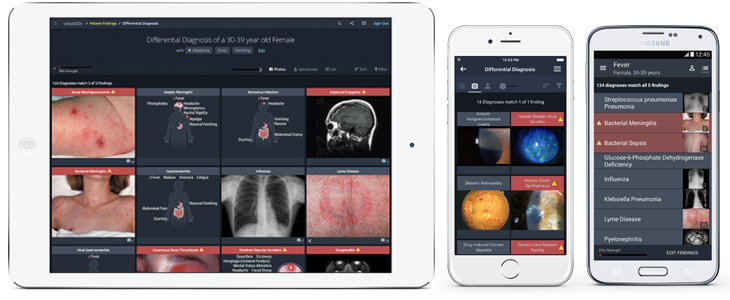 Mobile access is included in institutional licenses. There are specific mobile download instructions to ensure you can use VisualDx on the go. VisualDx Mobile is available as native iPhone, iPad, and Android apps. Get VisualDx Mobile.
---
"Top Five Medical App" at Harvard Medical School
VisualDx Mobile was named a 2011 top five medical app at Harvard Medical School. Read more about why VisualDx Mobile is one of Harvard Medical School's most popular technologies.
---
*Important note* Individual subscribers (not part of an customer institution) can download a free trial directly at the Apple App Store of Google Play.
---
Get VisualDx Mobile
Apple or Android devices
Institutional subscriber ONLY
Step 1
From an IP-authenticated clinical computer go to visualdx.com/visualdx.
Step 2
Click Get the Mobile App and fill out the information to create a personal login account.
Step 3
Search VisualDx in either the App Store or Google Play. Download and enter the username and password you created in Step #2. Congratulations, you're ready to go!
Individual subscriber
Download the free VisualDx Mobile app on your mobile device from the iTunes Store or from

Google Play

.
Launch the VisualDx app from your device and sign in using your current VisualDx username and password.
Mobile app requirements
VisualDx Mobile apps are available from the Apple Store and Google Play.
Hardware:
Android phone or tablet

iPhone, iPod Touch, or iPad

Operating System:
Android OS 6 or higher
iOS 11 or higher
All devices require an internet connection.