Reduce Diagnostic Errors, Improve Outcomes
Diagnostic delay and error can lead to patient harm. In fact, mortality data from autopsies showed that 35% to 40% of deaths were due to missed diagnoses.1 Research has confirmed that cognitive mistakes by physicians are the predominant cause of this error.2 Although most medical cases are ultimately correctly diagnosed and treated, errors leading to delay may result in poor quality of care, patient safety risks, increased costs, and, in some cases, malpractice litigation.3,4
---
---
Diagnostic Visual Decision Support
VisualDx assists diagnostic decision-making areas where physicians and other providers have expressed a consistent need – those areas requiring pattern recognition expertise. We help physicians recognize and diagnose by leveraging the innate human ability to pattern match. Simply search by patient factors to see a visual differential diagnosis. VisualDx combines the best medical images in the world – reviewed and confirmed by leading physician experts – with a unique and powerful search engine to give you patient-specific answers in seconds. Serious infectious, immunologic, metabolic, nutritional, psychiatric, and genetic diseases often present visually. See case studies showing how VisualDx supports diagnostic accuracy.
---
---
---
Proven to Increase Diagnostic Accuracy
We had a man present with a very unusual rash on his hand. Using VisualDx, we were able to accurately diagnose Mycobacterium marinum. The dermatologist that we referred him to was quite impressed that we were able to correctly diagnose it. – Dr. Dino Messina, Program Director of the Primary Care Residency Program, Danbury Hospital
Use of VisualDx early in the diagnostic workflow may reduce misdiagnosis for more efficient healthcare management
In a randomized, blinded study of emergency physicians, internists, family physicians, and dermatologists conducted at the University of Rochester, VisualDx improved diagnostic accuracy more than 120% for complex medical cases compared with standard textbooks and atlases.5 This improved outcome was achieved after only 5 minutes of training using VisualDx.
In a published study conducted at UCLA-Harbor Medical Center and University of Rochester Strong Memorial Hospital, physicians using VisualDx were over four times more likely to suggest the correct diagnosis for patients admitted to the hospital for serious infections.6 Without VisualDx, admitting physicians made diagnostic errors 28% of the time. These errors can lead to over-prescribing of antibiotics and increased patient risk of hospital-acquired infections.
---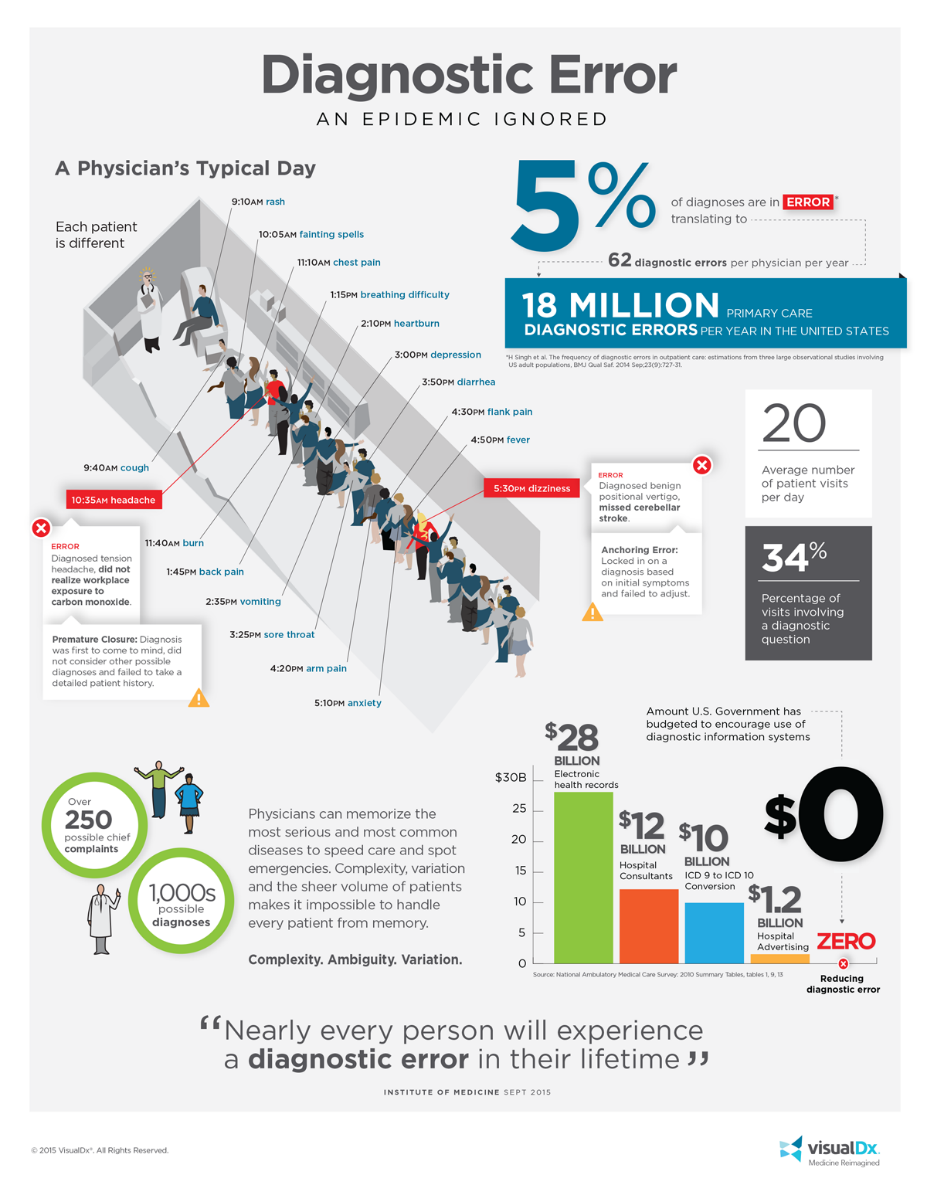 ---