Cerner Highlights VisualDx FHIR Integration at CHC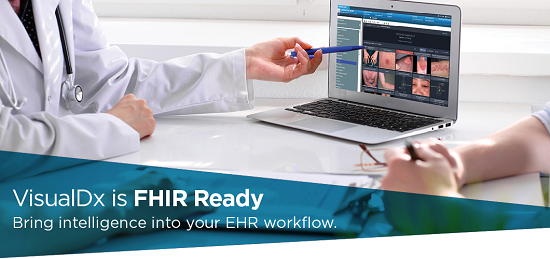 Using SMART on FHIR, clinicians can quickly access patient-specific information to improve diagnostic accuracy.
ROCHESTER, NY [November 14, 2016] - Bringing intelligence into the workflow of the electronic health record, VisualDx is pleased to be a featured partner during the 2016 Cerner Health Conference (CHC). VisualDx partnered with Cerner to be one of the first commercial applications using FHIR of Cerner Millennium.
VisualDx is a diagnostic clinical decision support system used in more than 1,600 hospitals and large clinics. Using the SMART/FHIR standard, the platform is able to obtain the patient's age, sex, problem list, and medication list to provide the clinician with VisualDx images matching their specific conditions or drug reactions.
At CHC, VisualDx, CoxHealth, and Cerner will be presenting on "Extending EHR Capabilities with SMART on FHIR Apps."
"Cox Health, working in partnership with Cerner and VisualDx is using SMART on FHIR to integrate VisualDx diagnostic decision support into the Cerner EHR. VisualDx is a powerful clinical tool, and FHIR made for easy interoperability connecting VisualDx into Powerchart," said Louis Krenn, MD, Chief Medical Information Officer, CoxHealth.
"There are many causes for diagnostic error – including complexity, variation, and the sheer volume of patients in a clinician's day. That's why we are providing the best resources to compare variations of disease right in the workflow," said Art Papier, MD, CEO, VisualDx.
Key Events at the Cerner Health Conference:
Extending EHR Capabilities with SMART on FHIR
Tuesday, November 15, 11:30am-12:30pm
Kansas City Convention Center, Room 2104AB
Demonstrations in the CHC Solutions Gallery:
Monday, Nov. 14 – 6-7:30pm
Tuesday, Nov. 15 – 4-5:30pm
Wednesday, Nov. 16 – 3-5:30pm
The Cerner Health Conference runs November 14-17 at the Kansas City Convention Center. VisualDx will be exhibiting at booth 700. For more about what's happening at Cerner, visit www.visualdx.com/cerner.
VisualDx is a web-based resource also available as iOS and Android apps. Learn more at www.visualdx.com.
About VisualDx
VisualDx is an award-winning diagnostic clinical decision support system that has become the standard electronic resource at more than half of U.S. medical schools and more than 1,500 hospitals and institutions nationwide. VisualDx combines clinical search with the world's best medical image library, plus medical knowledge from experts to help with diagnosis, treatment, self-education, and patient communication. Expanding to provide diagnostic decision support across General Medicine, the new VisualDx brings increased speed and accuracy to the art of diagnosis. Learn more at www.visualdx.com.