Visualdx.com no longer supports your web browser (Internet Explorer version 8 or lower). See what browsers we support.
Interoperable with Electronic Medical Records
VisualDx supports the Health Level 7 (HL7) Infobutton standard, with a focus on the problem list and medication list. The HL7 standard is already used within the Epic electronic health record (EHR) and other e-records. VisualDx also supports FHIR intergration. Infobuttons allow users to retrieve information from a clinical decision support system without having to retype data from the record.
---
Infobutton Access to VisualDx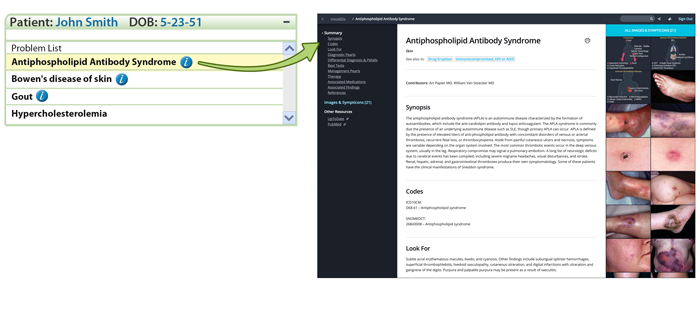 This example shows a search of antiphospholipid antibody syndrome in VisualDx using the EHR problem list Infobutton.

Epic Sites
Epic customers can use ClinKB Search (the Infobutton search within Epic) to access VisualDx content.
Cerner Sites
Cerner customers can use Cerner SMART on FHIR or MPages to access VisualDx content.
Other e-Records
Contact us with interoperability questions or to schedule a demo.