Visualdx.com no longer supports your web browser (Internet Explorer version 8 or lower). See what browsers we support.
Bacteria's Role in Seborrheic Dermatitis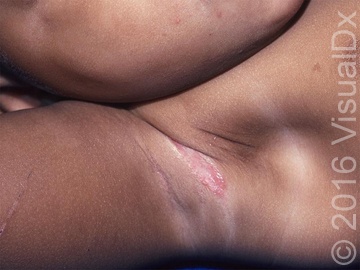 A May study in Nature.com's Scientific Reports is getting closer to figuring out the role bacteria plays on the scalp to create the conditions for seborrheic dermatitis (aka dandruff). According to the study's results, a scalp affected by dandruff had decreased Propionibacterium and increased Staphylococcus
Seborrheic dermatitis affects the sebum-rich areas of the body including the face, scalp, neck, upper chest, and back. It can present at two separate stages of life: in infancy; and in adults, after adrenarche.
Read more of VisualDx's content about seborrheic dermatitis including diagnostic pitfalls to look out for.
About VisualDx
VisualDx is an award-winning diagnostic clinical decision support system that has become the standard electronic resource at more than half of U.S. medical schools and more than 1,500 hospitals and institutions nationwide. VisualDx combines clinical search with the world's best medical image library, plus medical knowledge from experts to help with diagnosis, treatment, self-education, and patient communication. Expanding to provide diagnostic decision support across General Medicine, the new VisualDx brings increased speed and accuracy to the art of diagnosis. Learn more at www.visualdx.com.