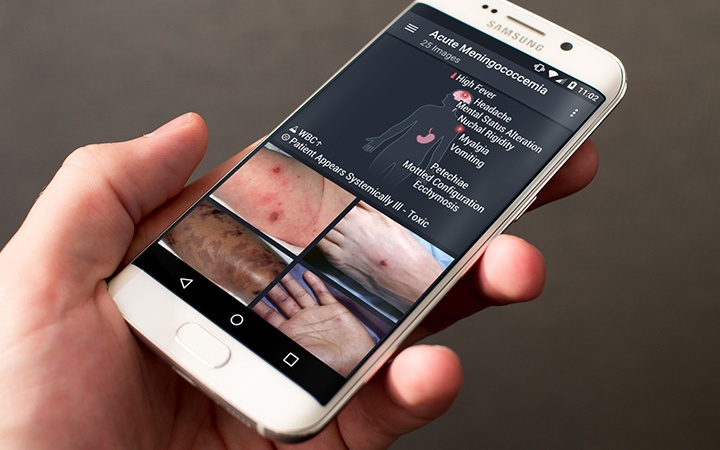 VisualDx announced today its next generation app is now available for iOS and Android devices. VisualDx is the first point of care diagnostic support system to be widely used, and has expanded to include diagnostic support across general medicine. The system speeds diagnosis, therapy decisions and patient education for emergency physicians, hospitalists and primary care clinicians worldwide.
---

I recently had a case that was solved using Visual Dx. I had a young male patient present with a pruritic rash on the bottom of his foot. It was remarkable in that it was unilateral and had an unusual linear wrapping appearance. Read more about a diagnosis of cutaneous larva migrans.

The young woman had been seen by other healthcare providers at least 3 times prior to arriving to our ED for care. Her complaints each time were a painful disseminated rash that had been present for over 3 weeks. Read more about a diagnosis of disseminated gonorrhea.
---

Case: A 3-year-old boy was initially triaged to the non-acute side of the emergency department with complaints of a sore throat. He was assessed with a streptococcal infection. Read more about a diagnosis of acute meningococcemia.
Case: A 64-year-old female was diagnosed with acute myeloid leukemia. She received induction chemotherapy. The day 34 bone marrow biopsy results were conclusive of AML in remission. Read more about a diagnosis of rapidly relapsing leukemia cutis.
---
Case: The patient was a 5-year-old boy presenting with fever and rash and appeared quite ill. Read more about a diagnosis of Kawasaki disease.

Case: A woman in her 20s with known HIV and TB presented to a clinic with dysphagia, headache, fever, and a generalized rash. Read more about VisualDx use in the Republic of Congo.
---

Case: The patient was an 8-year-old boy who presented with a scalp rash that had persisted for many months. Read more about the use of VisualDx in Pakistan.