Effects of a Workplace Canine Companion: An Analysis at 2016 UNYOC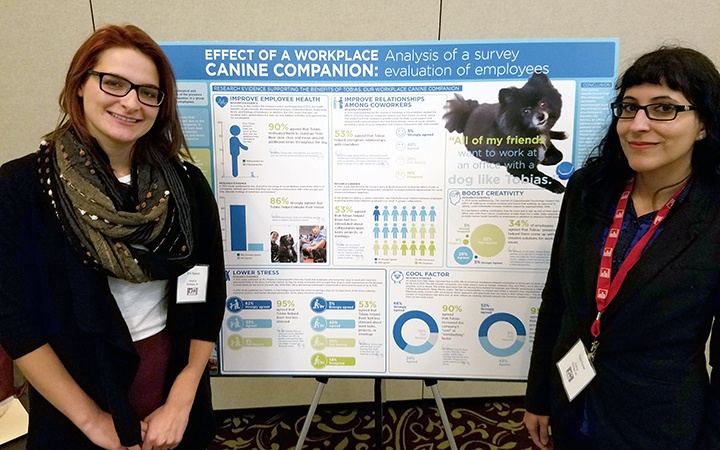 In October, three of our medical research librarians – Erin Keenan, Sigriet Ferrer, and Patricia Gogniat – attended the annual meeting of the Upstate New York and Ontario Chapter (UNYOC) of the Medical Library Association (MLA) in Watkins Glen, NY. During the conference, Ms. Keenan and Ms. Ferrer presented a poster titled "Effect of a Workplace Canine Companion: Analysis of a Survey Evaluation of Employees," featuring our office dog, Tobias. The poster provided a charming and evidence-based look at the benefits of a workplace canine companion.
Regarding the poster, Sigriet shares:
Our objective was to evaluate the physiological and psychological effects of the presence of a daily canine companion in a group of approximately 30 employees. Our method was to administer an anonymous, voluntary, and opinion-based survey that aimed to identify changes due to the presence of a canine companion relating to daily exercise/movement from chair or desk, employee relationships, effect on company image, and levels of stress, creativity, and mood in employees. Of the 30 employees polled, 21 completed the survey. Our results showed that the majority of employees perceived that the presence of Tobias, our workplace canine companion, improved employee health, improved relationships among coworkers, lowered stress, and added a "cool factor" to our company. A smaller percentage of employees, 34 percent, perceived that Tobias even helped boost their ability to form creative solutions for work issues. We concluded that the employees surveyed experienced perceived physiological and psychological benefits by having an office canine companion present in the workplace daily. In addition to surveying employees for our study, we presented evidence from the medical literature supporting our claims.
And Erin continues:
It was a great experience conducting our research right in the VisualDx office. We knew the opinion of Tobias was high among employees, but our research allowed us to see statistical evidence of the benefits, and break them down by type. And the statistics exceeded our expectations. For instance, we found that 95 percent of employees perceived that Tobias helped them feel less stressed at work. The open-ended responses we received during our survey also helped emphasize what a benefit Tobias is to the office. One responder stated "watching Tobias play with his ball, or just hearing the jingle of his bell tag, can improve a mood." Overall, I think our research makes a strong, positive argument for the benefits of a workplace canine companion.
Erin and Sigriet share: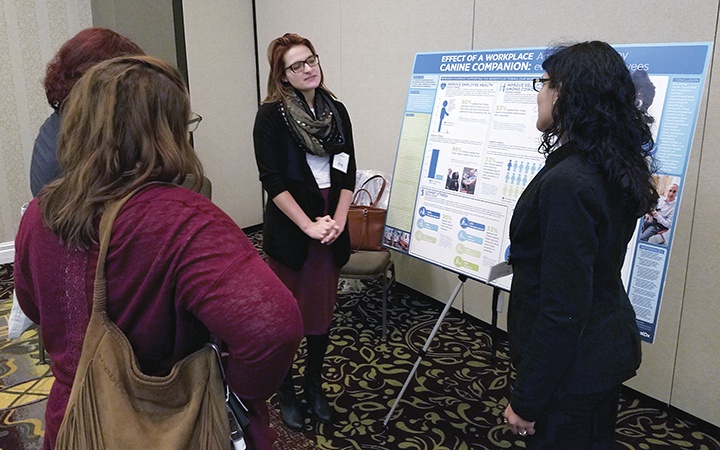 We are so grateful for the outpouring of support and interest that VisualDx received at UNYOC, and we're pleased to see that our presentation garnered much attention (and smiles!). It was a pleasure to meet with fellow librarians and learn about their organizations and their contributions in the medical library community.
Both Erin and Sigriet were first-time attendees of a medical library conference. Regarding this experience, Erin shares:
As a first-time attendee of UNYOC, I think the most distinct take away was the camaraderie and level of access that accompanied the small conference platform. The conference planners and presenters alike were very friendly and available at times throughout the conference to meet with and ask questions. This aspect of the conference made it especially useful to attend, since it was so easy to share a bit about myself and my position while getting to know the other attendants, and helped increase my knowledge of the practices of other medical libraries in the upstate and Ontario areas.
Additionally, the conference highlighted a few individual speaker presentations. I found Lane Rasberry's, the Wikipedian-in-Residence at Consumer Reports, presentation on the status of Wikipedia's medical content to be particularly enlightening. He was an incredibly lively speaker who was able to clearly communicate to the audience exactly how Wikipedia content is updated and maintained. Before this presentation, I had no idea that the Wikipedia standard is that every line of text should have a cited, reliable source. Nor did I know that Wikipedia has a community of reviewers that periodically check each line of text and the cited source. In fact, I'm sure I did not previously know many of the content editing and reviewing practices of Wikipedia Mr. Rasberry was able to update us on. In short, a fantastic and educational presentation that was able to interest me in the present and future of Wikipedia.
Overall our medical librarians greatly enjoyed the opportunity to network with other medical librarians from the area and participate in the collaborative learning environment offered at the 2016 UNYOC conference in Watkins Glen.
About VisualDx
VisualDx is an award-winning diagnostic clinical decision support system that has become the standard electronic resource at more than half of U.S. medical schools and more than 1,500 hospitals and institutions nationwide. VisualDx combines clinical search with the world's best medical image library, plus medical knowledge from experts to help with diagnosis, treatment, self-education, and patient communication. Expanding to provide diagnostic decision support across General Medicine, the new VisualDx brings increased speed and accuracy to the art of diagnosis. Learn more at www.visualdx.com.